Connecting Clients. Building Community.
When legal complications arise in your business, community or home, you need an attorney who can deftly navigate your situation and achieve quality legal outcomes. At the Hedgeman Law Firm, we are woman-owned and community-focused. We diligently pursue your goals and are relentless advocates for you.
Legal Solutions For New York And Washington, D.C.
You Have A Vision For Your Future. We Have The Tools To Get There.
The Hedgeman Law Firm is a comprehensive law firm with a wealth of resources. More importantly, we are motivated to work hard and achieve top-tier results for our clients. When we develop a case and strategy for you, we do so in a way that is highly personal, innovative and results-oriented. We combine years of experience with our strong work ethic and creative approach to find a strategy that fits your needs. For municipal law and commercial law needs, our firm has answers.
We Commit Because We Care
Attorney Catherine Hedgeman spent years working with prestigious law firms in New York and Washington, D.C. After years honing her skills, she decided to spend her time on cases that matter to her and that affect her home. She brings passionate representation and award-winning skill to cases right here in Albany and across our region. Her work is excellent, and the results are exemplary.
When you come to our office, we sit down with you to discuss your case in full, and we take the time to explain all your options. We put you back in control of your legal journey and then pursue your needs relentlessly. We have worked with municipalities, large corporations and families across New York to find legal solutions that fit their needs, not the other way around. And we'll help you do the same.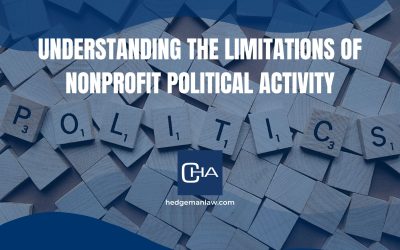 As a nonprofit organization, engaging in political activities is a common and necessary practice. However, there are limitations that must be understood in order to avoid legal issues and penalties. In this article, we will explore the limitations of nonprofit...
read more
All You Need To Do Is Call
No one expects you to navigate the legal system alone. Our firm is here to act as a guide and as a tool for you. We hold your hand throughout the legal process and stand up for you and your rights. There is no risk. You can talk to our team for free at 518-752-3111.